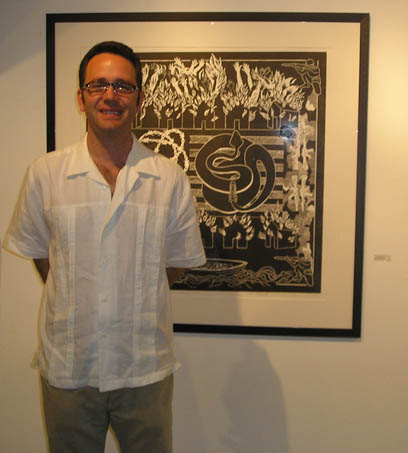 Peter Grandbois arrived at the SPC tanned and rested after his recent talk at the San Francisco Public Library, but still a little on edge in preparation for his public lecture on Thursday the 26th for the appearance of Sherman Alexie and Leslie Marmon Silko for the California Lectures series.
Peter read a brief section from his book
The Gravedigger
that he had not read before in public. It featured the hero, Juan Rodrigo, the gravedigger, who realizes that he is going to fall in love with his 3rd wife, Rosalita. The image that cements this feeling for Juan Rodrigo is Rosalita doing something rather rude to her former husband's grave. [See Chapter 8.]
He also read a new short story, one which he had not read aloud in public before. It was a story that he described as being a little different for him. It didn't fall into the usual category of "magic realism" or "surrealism" which much of his work could be labeled as. Instead, Grandbois described the piece as "American funhouse hyper-realism." Employing his usual mode of listening to music while he writes in order to set the mood for the world he is entering,
"Wait Your Turn"
[17:04] came to life while Grandbois was listening to Sinatra.