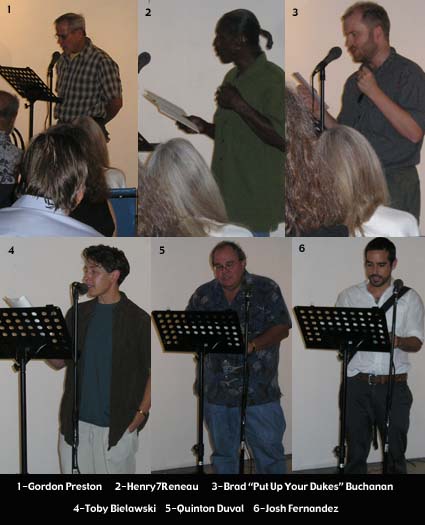 Entering into the starkness of the SPC cave (or was this just a Dadaist display?), the contributors to
Hardpan Magazine
, Modesto's newest entry into the literary scene, took their place in front of the podium. They were joined there by the
Hardpan
editors (Gordon Preston, debee loyd, and Karen Baker).
Gordon Preston announced the readers one by one as they came up to read fromthe issue of
Hardpan
where their work appeared. Leading things off was henry7 reneau, who rode up on his bicycle just before things got under way. He read 'homicidal in freedomland," and "seven days in oz." Then Karen Baker (not pictured) read "incidental food." Next up was Brad Buchanan who appeared to be in a "fighting mood" when he read "Spilled Milk." Toby Bielawski read a tribute to Annie Dillard entitled "Thinking of Tinker Creek." Quinton Duval read his tribute to irrepressible longing in The Valley entitled "Lonely Vistas." Josh Fernandez read "Bluebird," a poem he had recently written.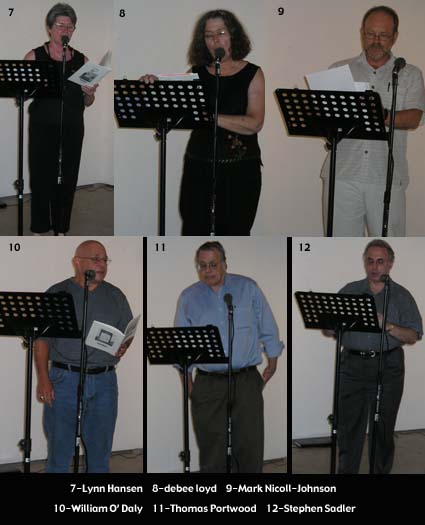 Lynn Hansen continued by reading "Spadefoot" and "Gravel Ghost." debee loyd read "The Game" and two other short pieces, "soil" and "i rise". Mark Nicoll-Johnson read "3 Highways" dedicated to 99, 108, and 120 that run through The Valley. [He also related a terrific anecdote about Maya Angelou after the reading.] William O' Daly read "Our Names Returning After Rain" and Tom Portwood read "I Am Andersonville." Finally, Stephen Sadler read "Anticipating the End of Summer" and "Regression."
Of course,
Hardpan
is always looking for submissions, and you can submit for issue four until Sept. 1 to hardpanpoetry@sbcglobal.net. Of course, it might be nice to query wih an e-mail for guidelines first.