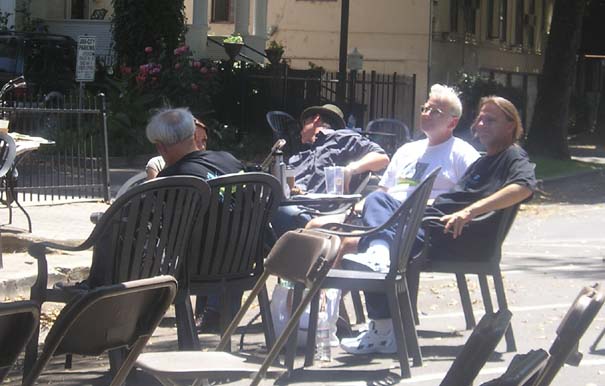 The brain trust of the three day
Java City Poetry Marathon
. Bari Kennedy (with back turned, scribbling sketches and poems in his notebook) and Frank Andrick (black shirt). Also at the table, Bob Stanley and Robbie Grossklaus (leaning) look on.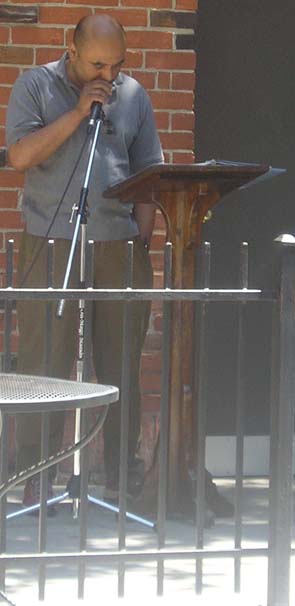 One of Sunday afternoon's readers [Bill Carr] reading "the train poem"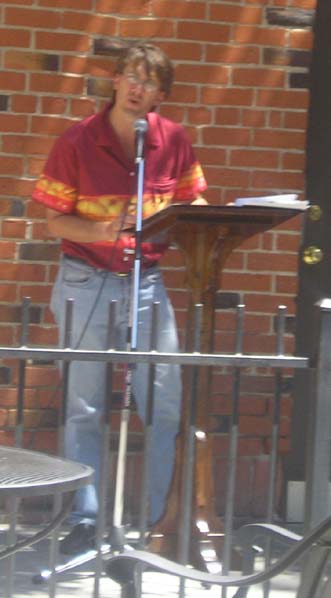 Another Sunday reader [yours truly, courtesy of my 8-year-old son, Soren] delivers to the faithful
Bari Kennedy and company were able to pull it off once more. Amid the towering oaks and sycamores at Capitol and 18th, Sacramento's poets came forth, one by one, to entertain and enchant the listeners in downtown Sacramento. The weather cooperated to provide a beautiful day. And the oaks and sycamores gently swayed to the rhythms of poems that were read.
While I was there, Bill Carr read his famed train poem, complete with sound effects, and Becca Costello read a piece about truffle pigs. But this was only a short period within the 72 hour time frame.
Feel free to send what you saw (including pics) during your visit at the poetry marathon to SacramentoPoetryCenter@yahoo.com, and I'll be glad to post it here.
There are rumors that this is going to be the last marathon. Let's hope that it can continue into the future. Can anyone say 25th anniversary?