Tuesday, May 13, 2008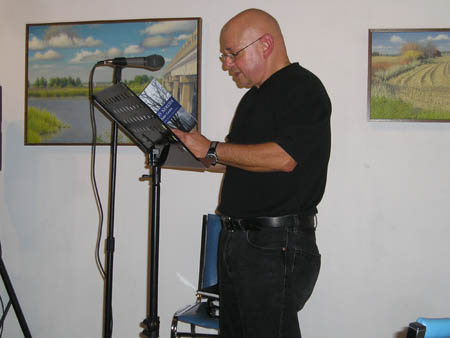 On April 28 William O' Daly came into Sacramento heading down I-80 from Auburn to talk about the work of his life-long mentor-in-translation, love poet and political poet, Pablo Neruda.
He quickly began his thousand weavings between the books of poems he has translated late in Neruda's career. They were books that Neruda scrambled to finish as he felt his health deteriorate. O' Daly has translated
Still Another Day
,
The Separate Rose
,
Winter Garden
,
The Sea and the Bells
,
The Yellow Heart
,
The Book of Questions
, and forthcoming is
The Hands of the Day
(coming out very soon) and
World's End (available in January 2009)
, all from Copper Canyon Press.
The first poem that O' Daly read was one of his own entitled "The Turning Year," from a new manuscript.
The first book he read from was
Still Another Day
, a book that Neruda wrote in 1969 when he took two days off from
World's End
.
From that book he read "I (first in Spanish and then in English)," "XVII," and "XVII" from this book-length long poem with 27 parts (each with the title of a Roman numeral).
The second book he read from was
The Separate Rose
, a book that arose from one of Neruda's trips to Rapa Nui (Easter Island). The book is divided into poems that fit into one of two categories, that of "The Island" (which Neruda praises) and that of "Men" (which Neruda often speaks of, sometimes disparagingly). There are 24 sections that fall into one of these two categories of "The Island" or "Men."
He read from "The Island (VI)" and "Men (IX)"
Then O'Daly read from
The Book of Questions
, a book that fulfilled a long-considered project of Neruda's.
The Book of Questions
consists of 74 octets (mostly) comprised of four couplets with each couplet a question.
From this book he read "XXV"
Why did the grove undress itself only to wait for the snow?
The next book O' Daly read from was
Winter Garden
. He read "Bird" and "Homecomings."
O'Daly progressed to
The Sea And the Bells
. The first piece he read from this collection (whose order and assemblage were determined by Neruda but many of the pieces remain untitled) was "Untitled"
.

The second poem from The Sea and the Bells was "Untitled" , which O' Daly commented underscored Neruda's awareness of his self being contiguous with his natural surroundings.

The next poem he read was one that he wrote in the guest book after touring Villa Grimaldi, a complex of buildings where Pinochet interrogated and tortured political prisoners. It is from The Sea and the Bells

If each day falls
inside each night,
there exists a well
where clarity is imprisoned.

We need to sit on the rim
of the well of darkness
and fish for fallen light
with patience.

O' Daly proceeded to the first of his new manuscripts, The Hands of Day. Critics have commented that this book arose from Neruda's guilt at not ever having to make things with his hands.

The first poem he read from this collection was called "Emptiness" which possessed my favorite line of the night:

and how is a sea made? Waves. Ovaries and dead ships.

The second poem was "Destinies," then "Close to the Knives" and "Not Everything is Now."

He skipped back to The Book of Questions to read "LXXIII"

Who works harder on earth,
a human or the grain's sun?

Between the fir and the poppy
whom does the earth love more?

Between the orchids and the wheat
which does it favor?

Why a flower with such opulence
and wheat with its dirty gold?

Does autumn enter legally
or is it an underground season?

Then he read VIII (What is it that Upsets the Volcanoes)

From The Yellow Heart he read "Reject the Lightning."

Then he returned to his own work from his new manuscript. The first poem, completed one week before the reading, was entitled "The Flag is Burning," a companion piece to a poem (which he didn't read) called "To the Forty-Third President of the United States of America," written at the beginning of The Iraq War in 2003. Both poems were composed in protest of the war. The first time he had the opportunity to read "To the Forty-Third President…" was at an event in Vermont attended by 750 people.

The second piece and final piece of the evening was entitled "New Year Manifesto."
Posted by

Tim Kahl
at 9:25 AM
No comments:

Tuesday, May 06, 2008
John Amen and Brad Henderson teamed up to give the Sacramento faithful an evening of spurs, blues and songs from the Jersey shore.
Brad started the evening by introducing the audience to his new movement of neo-cowboyism, a school that considers the balance between the city and the country. Brad talked about his grandfather's cattle ranch that he spent summers at near Rancho Seco. A lot of hay baling took center stage during this experience. Brad laments the fact that most of the cowboys have gone (his uncle's ranch near Modoc even has a golf course nearby). The modern cowboy, Brad theorizes, are posing as rock and rollers.
He started with his first poem "definition." It went something like this.
Neo-cowboyism is
that strange force
that makes Slash wear
black snakeskin
Tony Lama boots.
He then proceeded to read "horseback haiku"
big rob's pearl-snap shirt
nut blood on his denim, heel
rope them runt bull calves
He followed those two with "walk about," "California freedom," "The Mysterious City Girl." Then Brad moved into the musical portion of the evening. He dedicated his a cappella version of Springsteen's "Thunder Road" to long-time friend and Davis partner in crime, Andy Jones. Prior to this, rather mysteriously, Brad referred to Andy and himself as the human equivalents of unicorns. They are unicorn men. [Does this mean they are
cornudo
?]
After the rendition of Bruce, Brad read a fictional account of a bar fight called "The Bar Fight." Then on to a sonnet—"The Legend of Jackson Creek"— about Brad's trying to dig up some putative buried gold at his grandfather's ranch that had been abandoned since the days of the stagecoach.
Then there was the theme poem of Brad's new broadside that had to do with neo-cowboyism, addiction and a little bit of rock and roll:
secret cowboy at the raw bar [2:19]
it's been 9 years
& 262 days
since my last nip
of hooch—
nothing's gone in, not a sip
of whiskey or my beloved
gin. i've had to feel things
naturally—
anger w/out no
temper fix
& the rooms say this
is life on life's terms
not mine.
like a roller-coaster ride
scaled so large
you must scream & cry
& also laugh
or else you'll die
motion in levels
swells the heart's
amniotic case
i leak to survive
proof serum gas
out of my throat
& puckered dry
ass
back when i rose early
spry as a lamb
worked hard & come quittin'
yeehawed relief
put on clean duds
good boots & my hat
gulped a hot-snort
then announced, Howdy, ma'am.
I'm gettin' good "n" drunk.
years later, i'm sittin' here
dressed to blend out
in 501s
& a black T-shirt
a business woman
eats sushi on my right
a corporate waif
quaffs a shot on my left
he is watching the playoffs
the sound is flat
in the mirror, there's me
expressionless
a half-hidden
mug shot
among columns & rows
glass-cut prisms
liquor jugs
were it a time
of adventure & glory—
piss primal fights
clam-cloth motels, faces pressed
on clear plastic?
adieu, adieu—
to all i remember
& to the more
that i'll know later
to sip, to swirl, to in-secret
confess—
as a lip wipe after
a vulgar spit
And finally there was a tribute to his grandma that grew out of family dilemma about what to do with her ashes that had been in a filing cabinet for several years. The piece was called "What I Did with Ree-Ree"
Then John Amen took his spot behind the podium. He started talking about the "More Factor" where he made reference to Erisychthon, a poor soul who was punished with insatiable hunger by Demeter for cutting down a grove of trees. The poem he read was called "During a Lull" from John's book
More of Me Disappears
.
He stirred up his regular reading list by looking for a sign from his environs about what he should read. Something about Brad Henderson's poems reminded him of time he spent in New York, so he read "New York Memory #3," a reminder of a time when he was living in his dead father's rent-controlled apartment in Brooklyn Heights.
Then there was "Eulogy For My Mother,"
Eulogy For My Mother
My mother was a young swallow
abandoned to my care. I raised her to adulthood
and set her free. I see her occasionally now,
mostly at sunset when clouds pass like wild geese.
I call her by her christened name.
On summer evenings, she builds nests
in the awnings of my house,
splashes in birdbaths in my backyard.
Sometimes she stares through the window,
but never with longing. I have become God,
and she is Cain, who slew Abel, my child-self.
I tell her to wander, but I put a mark
on her feathery brow, that she might not
perish at the hands of other blind mothers.
She thanks me for it, for severing that cord;
in songs as piercing as evening rain,
grieves she was unable to cut it herself.
Then he read from
"Christening the Dancer"
which was set into motion by giving trying to give birth to the energy of dancing. Like Shiva.
Then he did
"Narcissism"
with a blues intro.
[3:58]
John then read a few poems for his wife Mary, They were from a series entitled "Portraits for Mary." The first one was entitled "#3," then "#20." ["What is it about beauty that lands me in the throat of grief?"]
The final poem he read was
"What I Said to Myself"
Posted by

Tim Kahl
at 10:49 PM
No comments:

FRI, 5/2 - The Other Voice, the U.U. Church of Davis;
readers from THE YOLO CROW, a literary journal
celebrates the writings of people of Yolo Cty. Chris
Campbell, Peter Goblen, Susan Wolbarst, Ronald Lane,
Sherman Stein. 7:30 pm, church library, 27074 Patwin
Rd.Refreshments/OpenMic. allegras@dcn.org

FRI, 5/2 - 7:30 p.m. – W. Wantling Is Dead; Kevin
Jones, Gene Bloom, Richard Lopez, Richard Hansen
and more. Book Collector. 1008 24th St., btwn J & K Sts.
916.442.9295.

SAT, 5/3. 7 p.m. Sac City College lit mag
(Susurrus) reading on the Sac City College campus-
room A6 of the auditorium building.

SAT, 5/3 and 1st Sat of every month:
Workshop/potluck, 11 a.m., 1720 15th Street, La Raza
Galeria Posada. Los Escritores del Nuevo Sol (Writers
of the New Sun) Members write in Spanish, English
and/or both. JoAnn @ joannpen@comcast.net.

SAT, 5/3 and 1st Sat of every month: Meetings for The
Aertherials Club for Artists and The Artist's Way, 2-4pm
@ Barnes and Noble, Stockton. Donald Anderson
drama_art_writing_maliger@yahoo.com.

TUE, 5/6 7:30 pm and Every Tues: SPC Poets'
Workshop, @ Hart Cntr, 27th/J Sts. Danyen @ 530-756-
6228.

TUE, 5/6 3rd Eye Collective, Life Sentence, Every
Tues, 7-10pm, open mic/slam sign-ups at 6:30pm 2904
Franklin Blvd, SAC $30 slam competition live-webCAST
www.artisticinsomnia.com ailive@tmail.com
http://myspace.com/LifeSentenceShow

May 8, Gary Snyder's birthday

MON, 5/12: 7:30 pm - Rebecca Foust & Elizabeth
Krause read @ SPC, 25th/ R. St. Free. 916-979-9706.

TUE, 5/12 7:30 pm and Every Tues nite: SPC Poets'
Workshop, @ Hart Cntr, 27th/J Sts. Danyen @ 530-756-
6228.


FRI, 5/18:2-4 p.m. - Poetry reading by winners of the
Museum's 2007 Automotive Poetry Contest. Doors
open 2pm. Presentation at 2:30pm. $5 for SADS & CVF
members, $7 for non-members. Also Art Deco authors.
Educ Cntr, Towe Auto Museum, 2200 Front St.
Sac, CA 95818 (916) 442-6802
http://www.toweautomuseum.org

WED, 5/14: 7:30 p.m. Rattlesnake Press presents a
littlesnake broadside by STEPHANI SCHAEFER, a new
chapbook from QUINTON DUVAL and Volume 3 of
CONVERSATIONS, B.L. Kennedy's Rattlesnake
Interview Series. The Book Collector, 1008 24th Street,
btwn J & K Streets, 916-442-9295, richard@poems-for-
all.com http://www.sacfreepress.com/poems/

WED, 5/14: 7 pm Sac Poets Against War reading and
Sac Area Peace Action open house. 909 12th Street,
Sac, 916-448-7157 free sacpeace@dcn.org
http://www.sacpeace.org

TH, 5/15. 8-10 pm - UC Davis Grad Student Reading
Series, 126 Voorhies Hall, Univ of Cal Davis Campus.
http://english.ucdavis.edu.

TH, 5/15, 8pm Beth Lisick and Kayden Kross plus open
mike. Luna's, 1414 16th Street. Free.
http://www.lunascafe.com, 916-441-3931
host frank andrick – every thurs nite readings at lunas

SUN, 5/18 3rd Sun of every month: Writing Group
meets, 1-3 pm in Sac. Nancy,
nancy_walker@dot.ca.gov for location.

MON, 5/19, 7:30 pm QR Hand and Bill Vartnaw from
Taurean Horn Press @ SPC, 25th/R Sts Free. 916-979-
9706.

TH, 5/22 8pm @ Lunas Cafe, 1414 16TH St. feature:
Sandy Thomas, Terryl Wheat

MON, 5/26 7:30 p.m. - Chad Sweeney & Josh
McKinney @ SPC, 25th/R. Sts Free. 916-979-9706.
http://www.sacramentopoetrycenter.org.

TUE, 5/27 Frank Bidart reads at UC Davis, Campus.
Time/location TBA. http://english.ucdavis.edu.

5/31 Al Young and Walt Whitman - birthdays.
Posted by

Tim Kahl
at 10:45 PM
No comments: