Francisco Reinking and Phoebe Wayne collaborated to provide an evening that was both fun and cerebral, marked by a special high—the moment when those chocolate covered ginger slices from Trader Joe's were rolled out. For me, the whole evening was an exercise in staving off the dilemma of whether to have the chocolate covered ginger or to have the chocolate covered espresso beans. I'm afraid I lapsed into a few irrational choices.
Francisco Reinking started off the evening by reading a good number of his ethereal short lyrics that juxtaposed juxtaposed gargoyles with call numbers. He read quite a few poems while sitting down.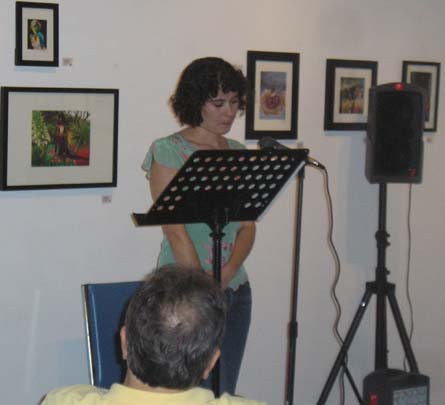 Phoebe Wayne arrived with her entourage and had a picnic with her family outside of the venue in the HQ for the Arts parking lot where I mistook the whole lot of them for actors on a cigarette break from a rehearsal for a play at California Stage.
Phoebe proceeded to read a poem for two voices entitled "Negotiations for the Mother lode," "Pink Palace," "Sequence 12," and "So,". Then she reached the animal portion of her reading: "The Kamchatka Bear," "Why Why Why," "Various Horses," and "Spider Season." She continued with "Sea/Ice," "Glass and Sash," "Sequence" and "Ceres." Then with husband Peter Musselman accompanying her on computer, she read "30 Days Beginning with X," which was read while a short movie was projected overhead of a driver's perspective of a car speeding down the road. This was superimposed over a road map with Lost Gulch, among other towns, peeking through the driving action in the foreground.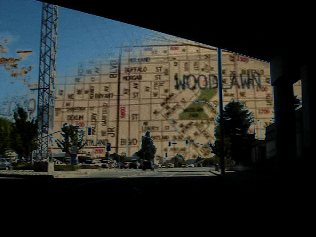 The open mic featured Adam Burrell whom I had picked out in front of SPC loitering and collared for duty setting up chairs before the reading. He read two poems: one to the promise of youth and the other a reflection on the Virginia Tech shootings. Joshua Clover graciously appeared after taking the train in from Berkeley and read the work of George Stanley, former San Francisco Renaissance poet who moved to Vancouver in the 1970s. He read Stanley's
"Vera Cruz"
. The irrepressible Michele Kunnert read two poems. Frank Graham, the editor of
Poetry Now
, read poems dedicated to the Iraqi children, to the people who made Little League, to night birds, and finally to cognitive therapy. Joe Atkins, arriving without even a poem in his pocket (how sad!), picked up a copy of Cole Swensen's
It's Like You Never Left
published by Ibis Press in 1983 off of the SPC shelf and resourcefully read a short piece from that book.