Hockey sticks propped against the wall and with the host trying to do impressions of both Hockey Night in Canada's Don Cherry and warble excerpts from a Stan Rogers tune, the SPC venue was set to explore and touch everyone in attendance's inner Canadian.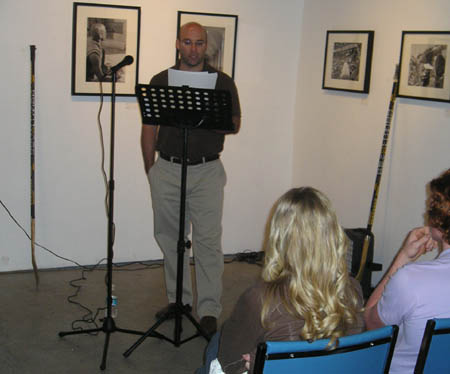 Zaid Shlah started off the evening reading selections from his long poem entitled "Taqsim." He then read two other poems from
the book of the same name published by Frontenac House
. One was "Leaving Iraq, Entering Alberta" and the other was "Occident to Orient." [
Excerpt from Occident to Orient
] Shlah read a few new pieces that emanated from a recent trip to Turkey, "An Ant climbs A Hill," "A Rebuttal" (which can be found at
Babylon Burning
) and "Have You Seen Yourself?" Shlah ended the evening reading two contemporary Arab-American poets. One is Saadi Youssef. The other poet is
Dunya Mikhail
, and he read the poems of hers
"The War Works Hard"
and "Pronouns."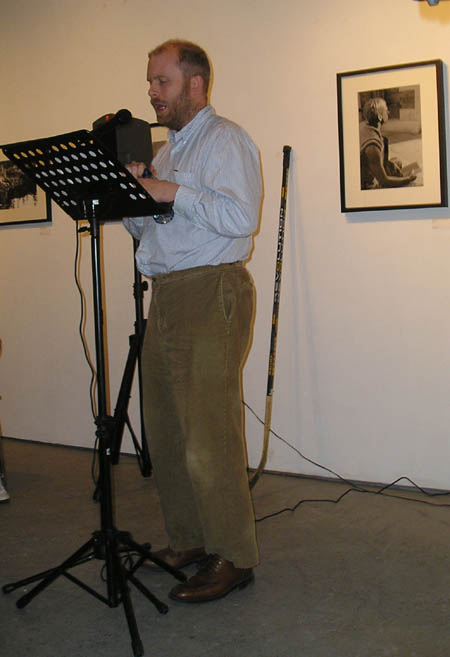 Brad Buchanan took to the microphone and explained why, though growing up in Ottawa, he was a Maple Leafs fan. Seguing from Zaid Shlah's segment, Brad read
"Photograph from Northern Iraq"
. By request he read "The Glue-Eater" from his book
The Miracle Shirker
. "The Emigrant Language" was next and then Buchanan moved into more frivolous hockey material, "Tending Goal," where Buchanan unloaded his angst about playing goal in front of a bunch of voracious attackers. He read "Gretzky in Exile" about the loss of Canada's best and brightest. "Selling Home" touched again on those who are expatriate Canadians. Summoning the notion that much of Canadian literature focuses on mdness while engaging the wilderness, often times unsuccessfully (see Farley Mowatt's
Lost in the Barrens
) as opposed to the American conquering of the wilderness, Buchanan read "Snowblind." Buchanan finished off his part of the reading with "Drowning by Letters" and "The Black and White Garden."
The Black and White Garden
To my daughter's mind, a forest in winter
is a black and white garden, where birds disappear
and dead leaves hang from branches like bats
set free from books where words have dried
and flattened them. In her eyes, things change
their colors, dimensions, names and origins--
they shine, starkly opposed, as if under
compulsion to form a pattern or purpose,
just like a classic photograph
or a Gothic wasteland, teeming with truths
that nobody else can see until
she points them out. For her, the snow
becomes undergrowth, blank space creeps into speech
and a poem is written with places to touch
built into the gently breathed-upon panes
of a lost, glaring wonder. We stare at her mind.
The open mic at the end of the evening was fueled by Jeff Norman, Rana Fong, and Whitney Knoll, who, in keeping with the Canadian theme for the evening, read
Sally Ito
's "Sisters of the Modern Mind."