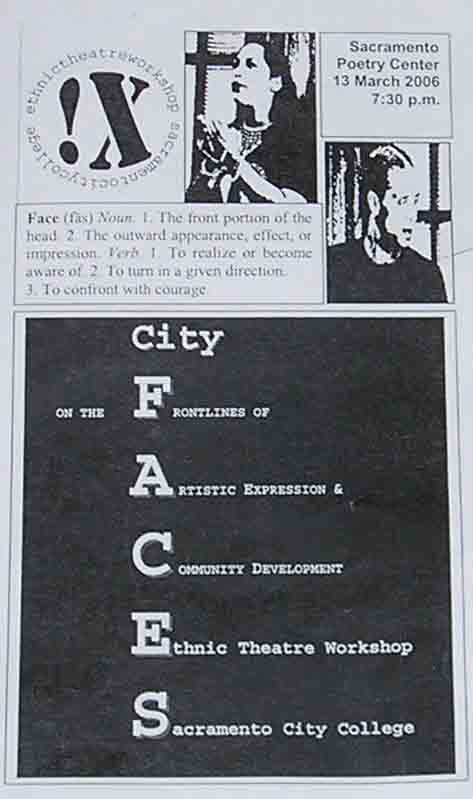 Sometimes there is so much energy in the room that one can barely sit still. Sometimes a room is so cold that you have to keep moving to stay warm. Both of these factors combined to make for an evening of high energy at Sacramento Poetry Center as members of !X were front and center.
Blending hip-hop and theatrical sensibilities, !X provided their take on love and faith and politics. Many of the writer/performers performed monologues that verged on lyric poems or was it lyric poems that verged on monologues? The blurring of lines between these two approaches came through quite evidently, and it seemed to be what the evening was about.
The group met just before the show began in the corner of the room and got mentally prepared for the event by ringleader Angela-Dee Alforque (whose theater classes at Sacramento city College provided the impetus for !X) who more than once served as the cork in the bottle. Then, like a huddle at a football game, they broke with their game faces on. D. Ü. C. was joined by two others (Julius Giles and Michael White?) to welcome the audience. They intoned "Is Sac City at the Theater? as a refrain as their beat was punctuated by tongue clicks. Even a little musical phrase of tongue clicks was performed. Then D. Ü. C. insistently said, "Let's start the show."
And they were off. The next piece by Marques Davison (Sho'Nuff) was the group's ars poetica, proclaiming beat and rhyme as the rock solid center of their project. At the end Davison reminded the audience, "Remember one thing: the soul of a rhyme lies in you."
"As I See the World" ventured into political discourse about the current condition of America's errant foreign policy in Iraq. Resin8 and Tony Garcia-Moreno criticized the Bush administration and declared that they "can't bring the fallen back." They equated Bush to Tony Montana, Al Pacino's character in
Scarface
. They exclaimed "George Bush is the puppet and the devil is the puppeteer."
"How Does One Fall in Love?" by LaToya Daniels began with a gospel wail and fell into a monologue about falling in love. The object of her affection was addressed at the end of the poem as she asked, "Are we through?"
Rosita Buada exposed her rapture in "I Know You," where she affectionately tells her lover how "she loves the laughter, (even though he's) hiding behind the tough-as-nails veneer."
"I Am Not My Hair" was an identity statement of sorts for Michael White who regarded his former locks as "vanity shit, my hair-braider quit," and he ended the piece by revealing the insight, "I don't need my hair to tell you who I am. I can do that."
Julius Giles related a monologue about playing peek-a-boo at a restaurant with a young child only to be startled by the child flashing a condom at him under the table. [During open mic, Giles also related a funny but rather raunchy vignette of a homeless man masturbating on the light rail.]
Lola Coy and Travis Stockinger in "I Can't Stand You" was primarily a female monologue about why her lover is emotionally unavailable. The male answers with periodic retorts. He is told, "I love you, but I can't stand you."
In the one socially conscious piece that was not a rant against the Bush administration ["Chance"], Tony Garcia-Moreno, Marques B. Davison, and Travis Stockinger did a character piece where a mentally challenged young man approaches a potential employer for a job only to be told that he need not concern himself without skills. Conversely, he is then offered a job in the second scene by a more progressive employer.
"Is it Possible?" featured Ariel Garcia Moreno [who amazingly seemed to be able to prance around the cement floors in her bare feet all night] and Chu.K the Ugly Duck where during some intimate dance-like poses discussed the possibility of true love.
Elika Bernard (Legato) performed a piece accredited to Kirk Franklin, gospel singer, that broke down into three parts with a refrain from the Tears For Fears song "Shout." The first part relayed the details of a tough inner city life story. The second section told of growing up in church and making mistakes. The third section came back to pleas to Jesus and the admonition to "treat mama right." The chorus of !X pounded a beat on a table for Elika to stay in rhythm.
"Hip Hop: Alive & Kickin'" by Resin8 and Tony Garcia-Moreno was an exhibition of an undying pledge to the beat-box. "[Hip-hop is] What I live. What I breathe," they announced.
"Conspiracy Reality" by Mark Gonzales, a spoken word performance artist from the Bay Area, was performed by Kiswani and D. Ü. C., and the piece carried the main message that "the world is more than a little hungry for justice" as it compared the US to a pimp and the Security Council as its trick.
The energy was contagious. The open mic list was quite long after members were urged to feel inspired by !Xs performance. [David Clyde's performance was particularly strong] Sacramento was the recipient of a great rush of enthusiasm, and enthusiasm can never be overlooked. One aspect of the evening's performance that announced itself was the lack of range of subject matter. The writers/performers seemed to be restricted to subjects of love and political tirade with a little sexual banter thrown in for good measure. These are subjects that everyone can relate to, but after a while they seem a little too easy. I was surprised that none of the pieces discussed the meaning/origin of the tongue click that the group took their name from. One might counter that the subject matter being easy to grasp for an audience is the whole point of keepin' it real. The simplicity of the rhyme and narrative are what draws. Perhaps. But for the adventurous performing soul, any subject matter is fair game and potentially attractive. A performer shouldn't give up on an audience because the subject matter is difficult.