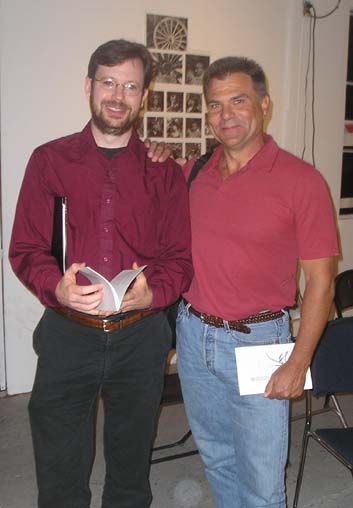 Andy Jones and Brad Henderson arrived at the Sacramento Poetry Center ready to go in matching shirts, a bit sadder that they had not forced all those who had attended an earlier reading at the Natsoulas Gallery in Davis to sign a contract to be in Sacramento.
Brad and Andy collaborated on a book put out by Natsoulas Press entitled
Split Stock
earlier this year, and they read several pieces from that book as well as a number of newer pieces, some from their self-imposed mission set upon each other to write a poem a day for 40 days (a la David Lehman).
One poem in which Brad bemoaned his fate of being a Midwesterner was
Uncle Larry
, a rather droll look at the world according to a man from Indiana.
Andy read a piece that was dedicated to his family, his three children: Geneva, Jackson and Truman. It was written and read primarily for those people whom he had expected to make the trip over the causeway to hear his reading, and it was partially inspired by Brad who had kidded Andy about his coming from a dysfunctional family. So, Andy mused about what it might be like to write a poem about his young family. the resulting piece was
Functional Family
.
Andy also read a piece about a particularly well-placed poet, but . . . well, er, more about that later.
The two of them also read pieces from
Split Stock
. Brad read
Mr. Yippy-I. O
, starting out the first line in a drawl, then thinking better of it.
Andy closed the evening with a poem about a sinister bathtime predicament [
Rubber Duck
]. You may never want to take a bath alone again!
During the open mic, two of the locals read pieces. Tim Kahl read
Ohrwurm
whose title is derived from a word that literally means "ear worm" but refers to any song that sticks in someone's head and the listener can't get it out.
Finally, Indigo Moor read two poems of his
"Tinder" and "Ethos"
about two paintings of Jacob Lawrence.