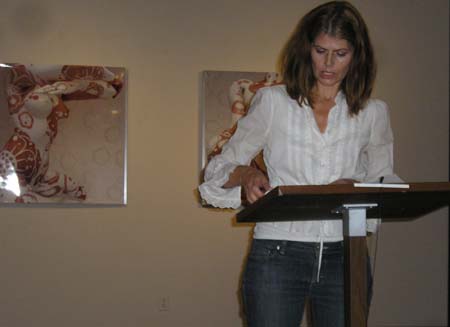 Eleni Sikelianos appeared at the the library gallery on the CSUS campus on a wet and rainy December night. She flew into Oakland and arrived at CSUS despite an uncooperative car that nearly found itself on a ventilator near Vacaville.
However, the car demonstrated resolve and sputtered across the Yolo Causeway into Sacramento.
After a little bit of a late start, Sikelianos began her reading with selections from
The Book of Jon
, a hybrid book of memoir, novel and dream narrative. Then she read selections from her forthcoming untitled manuscript, three of which can be heard here:
selections from forthcoming manuscript
. [2:08]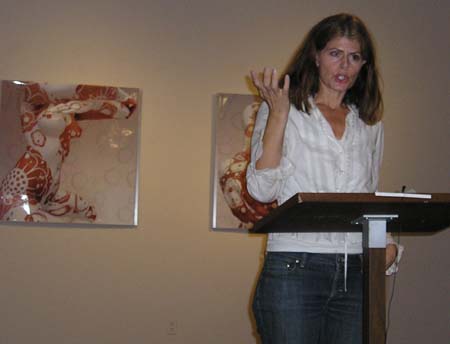 Eleni Sikelianos holds an imaginary orange as she demonstrates the bilateral symmetry between the physical world and the ideal world
She fielded questions afterwards ranging from persepctive in
The California Poem
to whether she considers herself prone to bouts of idealism. Then she signed books and was last seen, dry, headed for Peter Grandbois's night class.