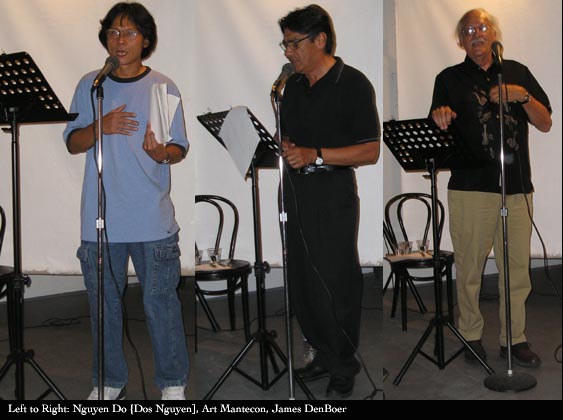 A NIGHT OF TRANSLATION [Featuring Nguyen Do, Art Mantecon, and James DenBoer]
The evening got off to a slow start when the first reader Nguyen Do (otherwise known around these parts by his pen name Dos Nguyen) began his recitation while struggling with his English. He was very nervous reading in a tongue other than his native tongue. The result for the audience was a string of phonemes that served as a kind of Rohrschach test that used poetry and sound instead of ink blots to tease out impressions made by listeners. Mr. Do showed great courage in reading these poems in English. Unfortunately, they didn't always register with the audience. The incomprehension was a pity. Mr Do's poems that have been translated in conjunction with Paul Hoover really are quite interesting, and they become even more interesting when one understands the context they were written in and how they have taken the risk of opposing the official versifying culture in Vietnam. Do is a member of what is referred to as the "Renovation Movement," a movement that endeavored to speak of loneliness and depression instead of the official happy verse of the nationally-sponsored Vietnamese Writers Association. Here is one of Mr. Do's poems that has appeared in
New American Writing 23
A Symphony of Friendship
Is it possible to return to an old blind alley
full of nasty eyes?
I launch
into questions in a darkness that's five below
then call myself at my old phone number–
8299221–
and listen to its lonely hoarse voice scream continuously–
my heart
is so painful it seems to be choking–
my memories are like a door falling off its hinges–
old, broken, but full of love–
I'm scared
to put it back together–
because it opened and closed my life
nowadays I fall to pieces easier than the kids
I sit feeling sorry that I couldn't bring with me
the phone's voice and an old tattered shirt
shirts
and other garments have their own fates
writing
above each sentence I suddenly remember
a small likeable poem of an old friend
everything has its own karma, everything
a song of sounds ceasing
is more interesting and lives longer than the original itself
my lovely friends–
Tagore or Whitman
or Ginsberg writing to praise you
Do, a skinny illness
but I swear I won't be less than you without sorrow
the cane
grass hair of my fate will be gray as you are
living
miserably but well on the way to my goal
with fresh airlessness and lacking the cheerful, particular perfume of your faces
me dropping a long rope down my life
to fish out
your shining glances–
which would never be there if the well were dry!
Nguyen Do
translated by Paul Hoover and Nguyen Do
Mr. Do read Nguyen Trai's
"Closing the Seaport,"
which was inspired by both Vietnamese and Chinese characters. Trai (1380-1442) is considered to be one of Vietnam's greatest poets. He also read his "Light," and "Headache" before reading the poem above "A Symphony of Friendship."
Then he proceeded to read several pieces by Van Câo, another member of the Renovation Movement and a poem by Hoang Hung. Finally, he ended the evening with a long poem by Thanh Thao, entitled "A Soldier Speaks of His Generation."
A Soldier Speaks of His Generation
The day we're leaving,
the doors of the passenger train open wide,
no longer a reason for secrets.
The soldiers young as bamboo shoots
playfully stick their heads out of the windows.
The soldiers young as bamboo shoots,
with army uniforms too large for them,
crowd together like tree leaves on the stairs of the cars.
The train whistles too loudly
and too long, as if broken,
like the
voice of a teen who nearly has his man's voice now.
In our generation,
that train whistle is a declaration.
The generation in which each day is a battle,
its mission heavier than the barrel of mortar 82
that we carry on our shoulders.
The generation that never sleeps,
that goes half naked and patiently digs trenches,
that is naked and calm in its thinking,
that goes on its way as our past has gone,
by ways various and new.
There are forest trees on which names are quickly engraved.
The canteens are engraved with the letters
Each backpack contains a uniform,
some dried fish sauce, and a small lump of steamed rice.
The camp's wood stoves flame on the stone bank of a creek,
above which hang tall cans of sour soup
made from
leaves
and shrimp sauce.
What we have,
we share,
share on
the ground
completely.
To enemies, we spend all we have in battle.
To friends, we give until all we have is gone.
If you see
that our skins are black from the sun
our misshapen bodies seem older than they are,
and you can count the calluses on our hands
along with the war medals'
still,
nothing quite describes us.
Oh, the clearing in
forest
with its dry, curved leaves
Every footstep crackles like a human voice.
In the night as we march,
several fires suddenly flare on the trail,
our generation with fire in our hearts
to light
the way to our goal.
One night when rain lashes on all four sides,
with no tree to hide us.
As the swamp floods, we have to push our boats against the rising tide.
The horizon lies behind whoever drags himself ahead,
Silhouetted by the flash of lightning.
Our generation has never slept, walks every night in the flood.
Mud covers us thickly from head to foot.
So our voices are those of cowboys,
and our gazes are sharp as a thorn,
because the fire that can burn in a bog is the true fire.
When it flames up,
it burns
with all of its strength.
What do you want to tell me in the hazy night
as you sing passionately the whole flood season?
flower
raises its hot yellow petals
like the
face of a hand that sunlight lands and stays on.
Our country comes from our hearts, simply,
Like this
that doesn't need making up
and is completely silent.
Stronger than any falling in love, this love goes directly
to any person
who doesn't care about the limits of language.
Unexpectedly, I meet my close friend again.
We both lie down on a
trail,
on an army
coat under the dark sky,
where just this evening a B-52 harrowed the earth three times,
where for several years the bomb craters are uncountable,
where I suddenly speak a simple dream:
When peace truly comes,
I will go to
trail number four, spread out a coat and lie down–
completely satisfied.
My friend gazes–
at a star rising from a water-
filled
crater.
His eyes
look so strange; I see
they contain both the star and the crater.
A vortex
spins on the roof of an ancient forest.
The wind
whistles a long time inside the empty shells of trees.
The bats
flicker in and out of sight.
A flattened space in the cane grass smolders.
We have passed the limits of the dry season,
passed
the rainy season, the long limits of the rainy season
when every night our soaked hammocks hang on
poles.
Our boats move across the river under the faint flares of the American army.
Sometimes, in awe of the skyline filled with red clouds at evening,
we forget we are older than our real ages.
Our feet
walk in rubber sandals across a hundred mountains,
but our shadows never walk ahead of our futures.
The battles of the past come again in memory.
Rockets exploded in air in a mass of smoke.
Our hearts beat nervously in our very first fight.
Our army
issue canteens smelled as they burned
on the roofs of the trenches.
And the garbage cans lay strewn all around.
In the silence and deafness between two bombings,
a voice suddenly called
from a small, ruined canal.
Our generation has never lived on memory
so we never rely on the past's radiance.
Our souls are fresh as
Chuong
our sky the natural blue of a sunlit day.
The transport boats sail the crowded
Bang Lang
canal.
That evening rockets attacked,
bending down the
Binh Bat
trees.
Sunset
covers both banks like blood.
The canal is white from the flow of toxic gases.
Suddenly I see my face on the water's surface,
among those poisonous mists,
on which
floats the
Binh Bat
fruit,
on which
floats our breaking country,
also floating the faces of many people,
some of them friends and some I have never seen.–
They are
so very young
as they flicker along on the stream
into a faraway meadow
on an endless evening.
They are the people who fought here first,
twenty
years ago as one generation,
and also
the ones who will come later,
twenty
years from today.
That evening
on the small canal
artillery attacks and flowing water.
How clearly you can
see the faces of
our generation.
Chuong is a kind of Southwest wind.
The alienation and isolation are apparent in these pieces ["A Soldier Speaks of His Generation" can be read in its entirety in
New American Writing 23
], and these stand in contrast to the Norman Vincent Peale-approved thinking that Do's generation was encouraged to put on display at all times. Knowing that Do's disaffection has been profound and that he is no stranger to loneliness, it was heartening to see a polite Sacramento Poetry Center audience give him his due despite being largely befuddled by the experience.
Art Mantecon stood before the podium in the trademark head-to-toe black that signals a "power performance," and he delivered what his garb hinted at. He read the work of Leopoldo Maria Panero, a Spanish poet who became a schizophrenic and voluntarily committed himself to a psychiatric ward. Panero is currently a resident in the insane asylum in Las Palmas on the Canary Islands, and his work reflects a brilliant but deranged imagery that is reminiscent of the patron saint of Spanish poetry, Federico Garcia Lorca. However, Panero's infatuation with the grotesque somewhat differentiates his work from that of Lorca's. Panero's universe is often violent and filled with lurid spectacle. The imagery comes at an audience/reader in rapid-fire succession, and it is not always possible to swallow in one listening/sitting.
Mantecon started by reading the delightfully bizarre "The Man Who Ate Nothing but Carrots." The poem begins with the image of two lighthouse lights shining out, and from here we are told the man who ate nothing but carrots did away with his wife for one. The man begins to scream and call out for carrots and generally let his passion for this vitamin A-laced vegetable do him in. The poem is sonically girded by the refrain of "the man who ate nothing but carrots," which sounds as good in English as it most likely does in Spanish.
While "The Man Who Ate Nothing but Carrots" was vaguely whimsical, "The Plan of A Kiss" was more demonic and darker in tone. The first line sets up this darker atmosphere, "I will kill you tomorrow when the moon comes out." A series of bizarre imagery ensues suggesting a world that is both chaotic and distinctly ordered. A "third dog barks in the ninth hour" and the "thirteenth leaf falls upon the ground of misery." The speaker addresses the beloved with an overtone of sadistic tenderness, "and you will see what a beauty you will be when you are dead." The speaker tells the beloved that "she will beg in the morning, that he will love her ghost and thrill it with the mysteries of semen." The chaotic is invoked again by the speaker throwing dice, and the poem ends, noting that the speaker will kill the beloved when the improbable event of "the last loon tell[ing] me its word" occurs.
I will kill you tomorrow when the moon comes out,
and the first loon tells me its word.
"The Lament of Joseph of Arimathea" pays homage to that biblical character who requests Jesus' body from Pilate in order bury it. He achieves almost disciple-like status in the gospels of Luke and Matthew, but in apocryphal gospels Joseph of Arimathea is depicted as caring for Mary after the ascension (and as the patron saint of Glastonbury, England as well as being involved in the Grail saga). But Panero takes the exploits of Joseph of Arimathea one step further. He depicts him as Mary's lover.
"The Dance of Death" started out as if it were an interlude between a previous piece of writing and the current one, but Mantecon remarked that there was no specific precedent in Panero's work to which it alludes. It started, "Before proceeding to the next chapter . . ." and then pursued the surreal imagery that Panero excels in creating. A parade of unlikely characters ensues down a street where a "chain of imbeciles" passes death. the imbeciles, "hand in hand." A figure is dancing, but it is difficult to determine if it is a boy or a girl. At the end of the poem a matchstick girl offers up death, but an old woman appears and objects; then she reveals that indeed she is death, but no one believes her.
"Snow White Bids Farewell to the Seven Dwarves" is written in the voice of Snow White, bidding her little male suitors adieu. She promises to write them all. The poem vacillates between silence and grotesquery, finally concluding with the hard truth that the Garden of Cherry Trees is up for sale.
"Hallucination of a Hand, or Posthumous, Absurd Hope in the Charity of the Night" seemed to address the thrust of Panero's libido and his mentally enfeebled state. The speaker "looked upon her incredulously." He offers her "his naked brain . . .useless . . . that he might touch her with it" The chain of meditations and wild imagery ends with the assertion that the act of the beloved touching the speaker's brain is an act whose "one and only meaning is the sacredness of forgetting its meaning," a very Borgesian-like (of "Funes, the Memorius") sentiment.
...And I looked upon her incredulously
like one in the desert who looks unbelieving
upon the horrific suspicion of water.
I loved her without even daring to believe it.
And so I offered her my naked brain,
as obscene as a toad, as obscene as life,
like a completely useless peace,
urging her day after day
to touch it sweetly with her tongue,
repeating in that manner a ceremony,
whose one and only meaning
is the sacredness of forgetting its meaning.
"To My Mother (A Reclaiming of a Thing of Beauty)" begins in a garden where the speaker (presumably the mother) is addressing someone as she commands this person to "contemplate the falling stars . . . to talk about the furniture." At the end she tells this person to who she is speaking to come here. She says this like she would say it to a boy as she implores this person to "see how the night will end."
Panero's work is tour de force and exhibits the typical libidinal force found in the best of the surrealists, a force that exaggerates the drive within all living things as the most essential thread that binds speakers in all tongues. The following is a short example of Panero's work:
LA POESÍA DESTRUYE AL HOMBRE...
La poesía destruye al hombre
mientras los monos saltan de rama en rama
buscándose en vano a sí mismos
en el sacrílego bosque de la vida
las palabras destruyen al hombre
¡y las mujeres devoran cráneos
con tanta hambre de vida!
Sólo es hermoso el pájaro cuando muere
destruído por la poesía.
Por Leopoldo Maria Panero
POETRY DESTROYS MAN
Poetry destroys man
while the monkeys leap from branch to branch,
searching in vain for themselves
in the sacrilegious wildwood of life.
Words destroy man...
and women devour skulls
with such a hunger for life!
A bird is beautiful
only when it is destroyed
and slain by poetry.
By Leopoldo Maria Panero
James DenBoer brought his scholar's passion for the obscure to the beleaguered audience which until that point had quietly anticipated the fall of darkness. With the actual onset of night, DenBoer read poems from two sources. He read two poems from the works of Venantius Fortunatus, a Christian poet of the sixth century who was later Bishop of the See of Poitiers. DenBoer remarked how as a young man Fortunatus had navigated the treachery of the courts of the Frankish kingdoms, whose endless in-fighting and power-hoarding was remarkable for its bloodshed.
DenBoer read two poems from Fortunatus'
Opera Poetica Book 11
that he translated with his sister-in-law, Maria Den Boer, from the Latin. The first, "Black Plums" is a poem that implores a recipient of a gift (probably his great friend St. Radegunde) of black plums to take this gift without any malice of forethought, to "take this pure fruit in the mouth."
DenBoer remarked that Fortunatus was something of a gourmand. He also very eloquently described Fortunatus as "bibulous" (a word which I had to scurry to the dictionary to look up; bibulous. (def.) given to or marked by the consumption of alcohol). In this light the second poem read made a good deal of sense.
"The Drunken Muse" can best be described as a sixth century out-of-body experience brought about by a bit of the merrymaking. The speaker seems to take great delight at the suspension of his wits by the product of fermentation. At the end of the poem, before going to sleep, and while still tipsy, the poet nevertheless takes time to write Radegund and her adopted daughter Agnes a thank-you note for the feast they provided that night.
DenBoer shifted gears and talked about a new translation project he has embarked on, that of the kharjas in Romance, a proto-Spanish that appears in Arab-controlled Spain in the tenth century.
The kharjas are short refrains that appear at the end of a longer muwashshah (variant spelling muwashshaha). The muwashshah was a sung form that was derived from classic Arabic and can roughly be translated as "girdle poem".The muwashshah consists of five to seven strophes and contains a rhyming pattern that is reminiscent of classical Arabic poetry but not completely consistent with canonized forms in Arabic, such as the
qasida
. The muwashshah is seen as the predecessor to rhymed verses of the troubadour which appear a little later in Europe. These songs of the troubadours, in turn, are seen as predecessors to today's popular song.
The kharjas at the end of the poems are interesting in two particular ways. They represent a major shift in diction and tone.
The shift in diction is represented by the change from elevated language in the muwashshah to the more common language in the kharja. The kharjas were written in either vernacular Arabic, Romance or Hebrew, all languages that did not rise to the preferred poetic language of classical Arabic. Thus, the presence of the kharja signaled a distinct downward shift in rhetoric.
The shift in tone results from the speaker's voice which is primarily that of a woman (while all the poets writing the kharja were men). Some believe that the kharja were actually quotations of popular songs of the day in the vernacular. The shift to the voice of the woman stands in contrast to the predominant male voice in the muwashshah itself.
DenBoer's particular interest in the 60 remaining kharjas written partially in Romance was the feature of the evening. DenBoer was encouraged to take on this particular literary oddity by Sam Armistead, a professor at the University of California at Davis. DenBoer pointed out that he was working from translations of the partially Romance kharja done in French in the 11th Century so that his English translations would be taking the circuitous path from Romance to French to English.
Many of the kharja are attributed to anonymous authors, but the first kharja read by DenBoer was by Yosef Al-Katib:
I love you so much, so much, lover. I love you so much that my eyes shine red with weeping and always burn.
DenBoer followed with an extensive catalog of kharjas, most with unattributed authors.
As I've told you before,
what can make
my sweet little mouth
even sweeter than it is?
The following kharja was quite popular as it was attached to three different muwashshah, and it amplified the common sentiment among young lovers of the age—to avoid chaperones (the chaperone being a common requirement for the young man and young woman who were interested in each other.)
I loved a dear boy from another tribe, and he loved me. But his wicked guardian wants to keep us apart.
DenBoer gave variant versions of the following kharja:
Everyone, friends, family, come. I'm going to shoot him with arrows. My man is singing to another woman in the courts of Valencia.
The variant form inserted "hawking his love" for "singing to another woman."
DenBoer explained that there were kharjas and muwashshahs with clearly homosexual subjects. But he tempered this by saying that Arabic often used masculine pronouns when addressing women, so there is little clarity about who the real addressee might have been.
Another kharja is addressed to a woman who tells fortunes, a diviner who can see the future.
So you know divination and can truly see the future. Then you can tell me when he will come back to me, my beloved Isaac.
This kharja is of a woman who seeks a humbler stance, confident in the power of her own charms without artificial additives:
I don't want a string of pearls, mamma.
I already have many nice things,
and my lover wants to see my snow-white neck,
bare of any bangles!
Here the voice of the kharja is that of a cuckolder:
Seducer, shameless, seducer. Oh, come back in. As soon as my jealous lover goes back to sleep.
The following dialog between the poet and his lover in the muwashshah sets up a kharja that occurs later in the poem:
You old drunks, you get tipsy on water instead of wine
- can't you see that the feelings that devour young men
come from the wild mountains and the cold springs;
that they claw us like lions!
The kharja employs a woman's voice that addresses a lover and her impatience with his absence.
Oh, dark-skinned lover,
apple of my eye;
who could put up with your absence,
my friend?
The Romance kharja are never linguistic spectacles. They are in all cases very simple statements in the voice of women (the underclass in medieval Europe). In some cases they address the power imbalance in the society. In other cases they are expressions of deep human longing and yearning. In either case, they stand as universal examples of the human condition that can still be understood nearly ten centuries later.
The evening ended with some Q & A. Many of the questions were directed towards DenBoer who had just finished. Art Mantecon posited that the muwashshah might have been an altered form of the word "mudejar" which referred to "(1) Spanish written in Arabic letters (2) A form of architecture employing Moorish forms for Christian purposes, e.g. a cathedral with a minaret structure or arabesque designs. (3) A Moslem who chose to stay in Spain after the Moorish and Jewish expulsions, adopting the Spanish language and conforming to Spanish rule and laws, while maintaining a secret adherence to Islam." This was left open as a possibility.
The evening ended when Jim Anderson asked each poet to read in the original. DenBoer declined because he did not bring any of the originals with him. Mantecon read another poem by Panero entitled "Evil Springs from the Hypocritical Suppression of Delight," and Do read another of his poems from memory, translating each line into English before he proceeded with the next line of the poem in Vietnamese, which provided a very fragmented reading of the poem in Vietnamese (which Anderson had initially asked to hear)