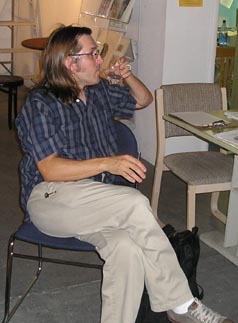 Christian Kiefer rolled across the causeway from Davis on a sweltering Monday evening during a record heat wave. The fans started up early, but they were only slight relief against the elements.
Kiefer suggested that the few who were not scared away by the heat gather in a circle for an informal rap rather than a formal reading. Sans campfire, the small group assembled in a circle. He started by reading a few poems from Brad Buchanan's
The Miracle Shirker
, namely, " The Birds and the Bees" and "The Fuzzy Room"
Kiefer then proceeded to explain why he felt compelled more by music and its audiences than by poetry's audience, which is often more reserved in its appreciation and more solitary in its response.
Kiefer's own work throughout the evening was more image-oriented than rhetorical, which, Kiefer shared, led a former instructor of his to describe his work as surrealist. On that note he read from a 1973 collection by Gregory Orr entitled
Burning the Empty Nests
that spoke of a misapprehended reality on the part of the speaker and an acknowledgment on the part of the speaker
Several of the pieces he read throughout the evening were concerned with ritual flaying that was inspired by an incident he had in Iowa when he witnessed a pile of carcasses, the remnants of a poaching expedition gone horribly awry. In another poem with animal dismemberment as its subject, the speaker talked of nailing a small bird to the wall of his cubicle with the hope of the outrageous act drawing the attention of co-workers who had invested too heavily in maintaining an even keel, the status quo.
Kiefer read a humorous and stark poem about his trials as employee, a poem that included a list of many jobs held and their absurd requirements. From there, the speaker went on to chronicle what others who have worked with him might have said and other various reflections related to his experiences.
At the end Kiefer read "Hell is Chrome" by Jeff Tweedy of Wilco from his book entitled
Adult Head
on Zoo Press.
Hell is Chrome
When the devil came
He was not red
He was chrome and he said
Come with me
You must go
So I went
Where everything was clean
So precise and towering
I was welcomed
With open arms
I received so much help in every way
I felt no fear
I felt no fear
The air was crisp
Like sunny late winter days
A springtime yawning high in the haze
And I felt like I belonged
Come with me
Come with me
Come with me
Come with me
Come with me
Come with me
Come with me
Come with me
and the fans were turned off, left to suffer under the weight of heat and moisture that filled the air.