David Alpaugh and Jeff Knorr took their place in front of a packed venue at SPC on Sept. 24, 2007.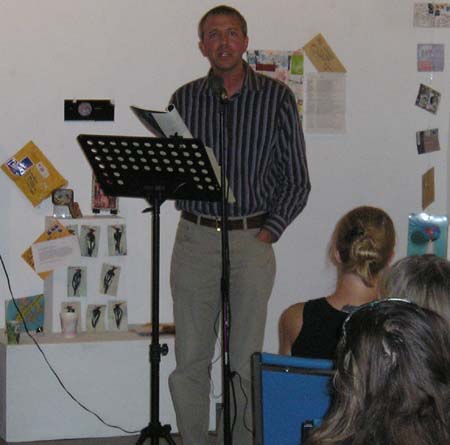 Jeff started the evening and read mostly selections from his new book "The Third Body." However, he started the evening off reading a new basketball poem entitled "Tuesday at the Y." Then he proceeded to read: "Under a Brick Orange Moon," "Waiting on Family Court," "The First Time We Lost Our Son," "Winter Turkeys," "Lesson in Love and Evolution off of Highway 99," [Click
here
for audio][2:53] "Morning Swim," [Click
here
for audio][2:11]"Worship," and "Openings."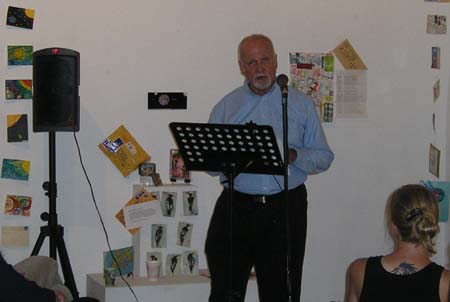 David Alpaugh then took his place behind the podium and explained that the poem alluded to in his introduction, namely "Postmodern Buttocks of Apollo," was described in recent review of his book as "the ultimate in shaped poems."
David's pieces ranged in tone from the emotionally serious to the political to the insightful, but mostly they were poems that were musings on his contemporary era and his past. This makes him a good reader to pair with almost anyone: Dr. Seuss, Allen Ginsberg or Richard Wilbur.
He read strictly from his newest book
Heavy Lifting
: "Footage," "Pivotal Question," " Heavy Lifting," "Losing Control of the Toad," [Click
here
for audio][2:18] "What My Father Loved About Melmac," "A Distant Sunder," "War and White Wine," "Power Trip," "Statement," "Deconstruction," [Click
here
for audio][2:42] "Lipstick,"Who Says Poetry Makes Nothing Happen," "Hamlet's Lullaby, and "Sweet Nothing." [Click
here
for audio][3:13]
He even survived an accusation of being the George Carlin of poetry.