Patrick Grizzell and Alice Anderson graced the elegant setting at Time-Tested Books. The chairs were aligned in a semicircle, butts in seats, for this pair with old Sacramento ties.
At an occasion like this one, after a few conversations, one begins to learn who begat whom. And it was exactly this family lineage that Grizzell traced in one of his poems in which he listed a whole wallet plastic-photo-protector full of crazy uncles and other family members possessed by demons. It was an insight into how the origins of a family in the South can turn a family in every which direction. During Grizzell's reading of this poem I kept looking over at the person seated next to me and wondering if somehow he might be related to me.
Grizzell carried on with his hardest-working-main-in-show-business routine, apologizing for the apparently unsightly build-up of sweat on his brow. I took a liking to it. It reminded me of almost all the plumbers I have met in my life, and it went a ways to establishing an idea that I think I have held onto for years: more plumbers should be poets and more poets should be plumbers.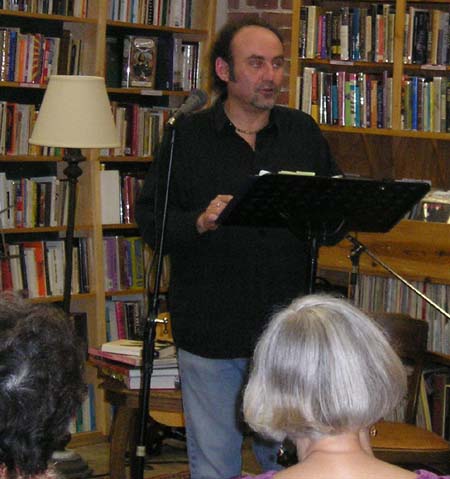 Grizzell also read short poems with long titles, a specialty of his, and he warned that Alice Anderson would be reading a similarly long-titled short-content poem. It came to pass, my brethren. It was so.
Grizzell handed off the mic from himself as one southerner to Alice Anderson, another, who read from her prize-winning book
Human Nature
and some of her new poems.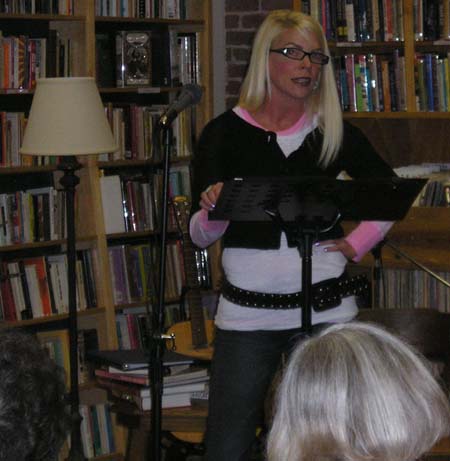 Pat Grizzell returned at the end of the evening with a hint of his folk-blues-jazz stylings. On guitar and harmonica he sang songs of loss and misfortune, a real blues sensibility. He sliced his way through sevenths and minor chords that in a way hinted at the trail of severed body parts in his songs which finally led to the heart of the speaker itself becoming broken.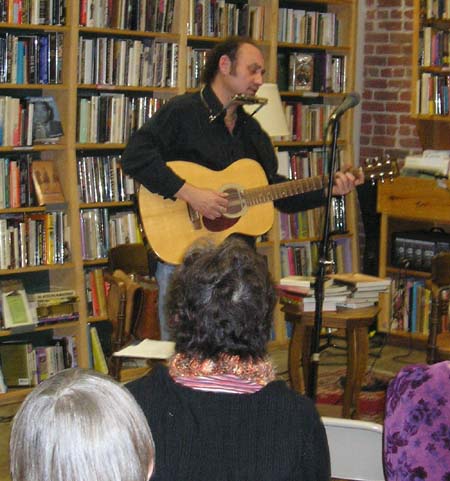 Hey did somebody run off with Pat's mic stand after the gig? Hey, Pat, man, it wasn't me.